Italian Site
Leather Series
innovative solutions for photo album.
The extreme care of the quality of our product, the modernization and our dynamism can allow us to combine the traditional craft with the most modern technologies for the realization of our leather photo albums. Album of high quality with our accessories and variants can have different faces, modern photo albums or antique photo albums.
This collection in leather are available in: blue, cognac, natural, matte brown, honey, black, mars, Ivory Pearl, for each model the availability of different colors.
Customize your wedding photo album: you can choose the model, color, size and material of the cover and make it unique!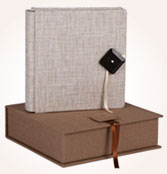 Request information