Italian Site
Fabric Series
innovative solutions for photo album.
The fabric album is appropriated for the more complicated, the weaving of wires depends on you! The webs and patterns are the result of these weavings that satisfy all the people from the most refined to the most spontaneous.
It becomes even more exciting to create photo albums in handmade fabric, for wedding, for Christening, for Communion, and any event, because these photo albums are ready to wake up the hidden feelings.
Customize your wedding photo album: you can choose the model, color, size and material of the cover and make it unique!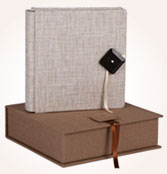 Request information