Italian Site
Infancy Series
innovative solutions for photo album.
When there is a birth an incredible journey begins full of discoveries. La casa dell' album offers its valuable work in support of this exciting journey and it creates original and unique photo albums for kids.
In this line there are photo albums for birth, baptism, first communion and confirmation. For these significant ceremonies we have created a wide range of models ready to satisfy the whims of everyone with quality and design.
Customize your wedding photo album: you can choose the model, color, size and material of the cover and make it unique!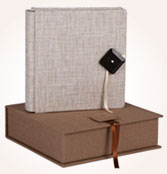 Request information