Italian Site
Hide Series
innovative solutions for photo album.
We listen to the requests and suggestions of our customers so we have had a special attention to our leather collection. The modern style of these new leathers with varied colors and patterns, makes better the album with your dreams. You can preserve and remember a special occasion such as a wedding or birth or any event that you retain important.
The leather models are available in different colors: ivory, hawthorn, beige bouquet, bouquet red, zen, pomegranate, red poppy, red meteor, yellow, green. The color availability can change for each model you choose.
Customize your wedding photo album: you can choose the model, color, size and material of the cover and make it unique!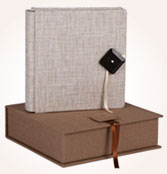 Request information