Italian Site
Bonded Leather Series
innovative solutions for photo album.
Our bonded leather photo albums are considered traditional handmade photo albums. The soft colors give to our album a simple look but it can be original and personalized thanks to our accessories and variations.
Apparently the bonded leather photo albums seem vintage, antique, but this means that the magic moments must live forever in our hearts and these albums are the right choice.
Customize your wedding photo album: you can choose the model, color, size and material of the cover and make it unique!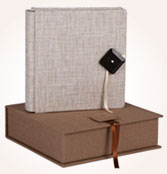 Request information